Sale!
TMJ pathology related to occlusion: etiopathology and treatment
Jiménez-López, Vicente

Includes CD-ROM with more than 200 Animations
This book offers a meticulous analysis of occlusion, one of the most important specialties in dentistry, because a healthy stomatognathic system depends on it. The book covers the dentition, tooth and implant bone, gingiva, tooth and implant-borne prostheses, masticatory muscles, ligaments, TMJ, articular capsules, disks, etc.
The problems that can lead to "malocclusion" depend on patient emotional stress, grinding, clenching, and the jaw being out of occlusion and its proper position. The book also covers referred pain, which can mimic joint symptoms caused by neck and masticatory muscle problems. Headaches and facial pain may be diagnosed as being atypical and may be really due to occlusionrelated muscle problems (masseters, temporalis, etc.), including neck muscles. There are many!
Sale!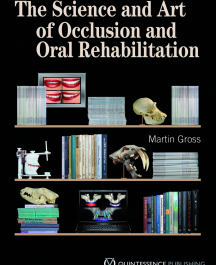 Gross, Martin
This book fulfils the need for an up-to-date extensive evidence-based text encompassing didactic and clinical fields relevant to occlusion and oral rehabilitation that reflects changing paradigms, concepts, new clinical disciplines and expanding therapeutic options.
Sale!
Current Knowledge and Practice
Laluque, Jean-François / Brocard, Daniel / d'Incau, Emmanuel (Hrsg.)
Bruxism is one of the "diseases" of the XXI century and acknowledgment of its destructive nature in the last fifteen years highlighted the hesitations of the profession and the questions of patients.
Since the first book dedicated to bruxism, knowledge has rapidly improved to define today different types of bruxism in what used to appear as an "unmanageable" phenomenon.
Thanks to a better understanding of bruxism during the last decade, the treatment of patients with bruxism is not only more conservative but also dental practitioners can consider diverse etiologies or aggravating factors that may lead to a differential diagnosis with several potential therapeutic approaches conversely to what has been done for too many years.
This well-researched book, with many international contributors, is currently the best available overall summary on bruxism for the dental practitioner and the most conservative answer for treatment of patients.